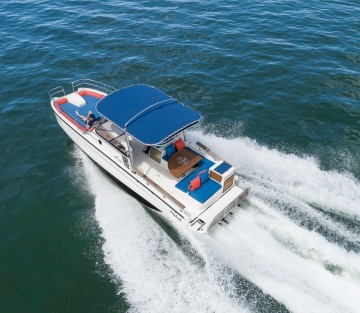 Technology
Our electric - hybrid propulsion takes advantage of electric motor and combustion engine to offer the best of both worlds.
Range 1 h 20 at 5 knots

No range anxiety ! Hybrid mode charge on-the-go if needed

Silence and maneuverability

When driving becomes child's play

Safety

No propellers in the water means safety for human and material !
ELECTRIC MODE
Our nature-friendly 100% electric mode invites you to discover and enjoy new horizons, helps you to watch wildlife or find hidden areas since you can navigate through shallow waters.
1h 30 min

To recover 100% of battery range

350 hp + 30 hp

350 hp "combustion engine inboard"
+30 hp "electric boost when taking off"
HYBRID MODE
Performance mode for high speed operation. Power is mainly supplied by a single inboard engine which is more fuel efficient on long distances.
How does it work ?

Zdrive base

Starboard propeller

Electric motor, starboard propulsion

Lithium batteries
Zdrive base
Starboard propeller
Electric motor, starboard propulsion
Lithium batteries
Electric propulsion motors turn propellers in nozzles to move the boat. Motors are powered by a 20 kWh lithium battery.
When operating in electric mode, combustion engine is OFF and stern drive base is up.

Inboard engine, main propulsion

Zdrive base

REGEN electric motor

Fuel tank

Lithium batteries
Inboard engine, main propulsion
Zdrive base
REGEN electric motor
Fuel tank
Lithium batteries
As a conventional boat, Pinball is propelled by a 350 hp sterndrive engine.
On-the-go, electric REGEN motor operates as a generator and recharges battery completely within 1,5 hour.
During taking off to provide maximum power for a short period, electric Regen motor and engine work simultaneously (Boost feature).

Handling in electric mode
Back water in nozzle generates a reverse flow of water. Resulting force makes boat turns powerfully round on its own length.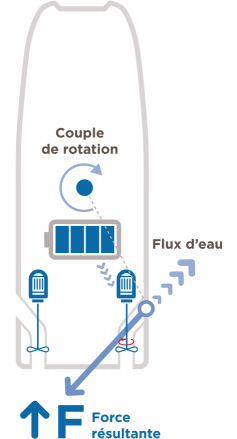 Technical information
Characteristics
Overall length
9m
Hull length
8m35
Hull beam
2,97m
Air draught
3m
Draught
0,50 m
Light deplacement
3,8 t
Capacity
Up to 15 people
EC certification
C15
Fresh Water capacity
105 l
Fuel capacity
420 l
Igloo cabin
1
Berth
2
Performances
Max speed Hybrid
25 kts
Max speed Electric
5 kts (range 1h 20)
Sterndrive inboard gas engine V8 350 DPS VOLVO
350 hp (257 kW) or optional 430 hp(316 kW)
Electric Propulsion
2 x 8 kW (S2-1h)
Main Battery
Lithium Battery 20 kWh - 48 V
Time full charge on main supply
5h (230V, 16A plug)
Time full charge in Hybrid (REGEN feature)
1h30
Electric steering
Electric steering wheel & hydraulic steering closed loop control
Throttle Lever
Digital