Maneuverability
Innovation designed around the pilot for easy boating
When operating in Electric propulsion, nozzle propulsion algorithm provides high maneuverability and makes it easy entry–exit port to less experienced pilot.
Handling in electric propulsion
Back water in nozzle generates a reverse flow of water. Resulting force makes boat turns powerfully round on its own length.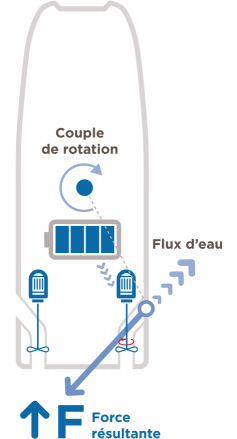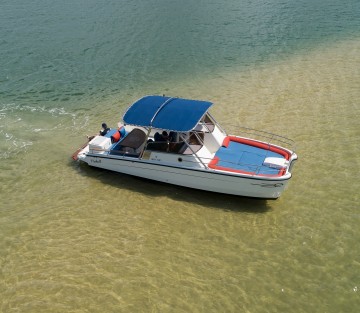 Safety
In Electric propulsion, no propeller out of hull means no stress
When operating in Electric propulsion, engine is off, sterndrive is up and electric propellers are secured in nozzles.
This is better for swimmers safety and you can go gently in shallow water without the worry of breaking a propeller on a rock.
Stability
Catamaran hull design provides comfort and stability in navigation and at anchor.
Hull is the DNA of boats.
Our two sharp-looking half hulls offer low drag resistance when moving forward, ideal for electric propulsion.
Our catamaran offer more stability at anchor and greater performance on rougher waters. Our specific hull split waves rather than jumping it.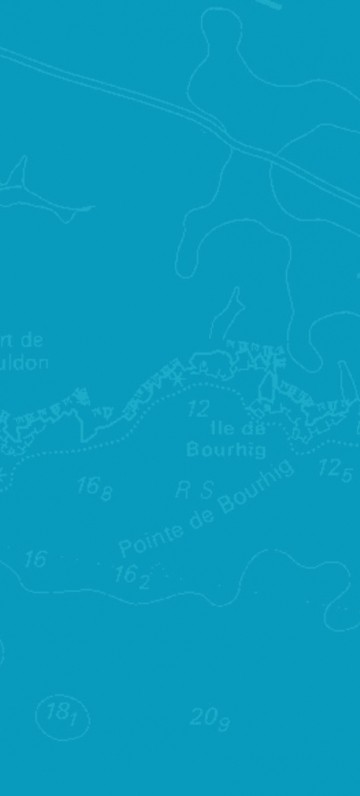 Easy and intuitive operation
Both Electric and hybrid propulsions can be operate effortless with a steering wheel and a single lever. Pilot select Electric or Hybrid with two LED's switches (blue or yellow)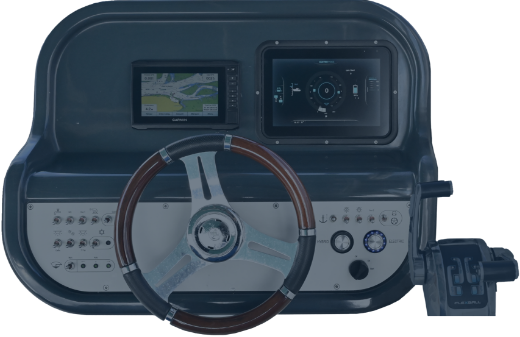 The change from Electric propulsion/ Hybrid propulsion is made via two switches with LEDs respectively yellow and blue

100% digital throttle and forward / reverse levers. Our integrated digital shifting system allows you to change direction and acceleration smoothly and evenly

Touch interface which reinforces the understanding of the boat.
Display, configure and control all propulsion and navigation data on a large 10 "touchscreen

Integrated electric steering.

This steering provides easy maneuverability and control of the boat without effort on the steering wheel.
To accommodate different piloting styles, and help increase safety and enjoyment, choose in electric propulsion "Standard pilot" or "Expert pilot".
Standard pilot (Steering wheel)

The boat is piloted with a steering wheel & a single lever ... and that's it. When driving your boat becomes as easy as driving your car!
The left lever gives "gas" throttle and when the steering wheel is operated, algorithm manages electric motors for great maneuverability.
Expert pilot (dual lever)

High precision piloting via dual lever for experienced pilot. Each lever independently controls its electric motor.
To maneuver, the pilot plays on the differential of the levers to turn the boat like a tracked machine.
Touchscreen display
Collects and displays all pilot information in one place via a single interface.
Integrated with our hybrid - electric Propulsion system, the interface provides a full overview and control of navigation, engine & motors monitoring, warnings and alarms.
View information like main battery charge, fuel gauge, electric or hybrid operation, engines & electric motors output, water flow when maneuvering in electric, Boost and regen operation.